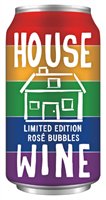 House Wine - Rainbow
Crisp and elegant aromas of fresh berries lead to lively citrus flavors on the palate. Bright, fruity, and flavorful. Pairs best with anywhere you can take pride in diversity and yourself.
House Wine Rainbow Rosé Bubbles cans, in partnership with the Human Rights Campaign (HRC), celebrate and support LGBTQ+ equality and love in all its forms. House Wine donates a portion of the proceeds from sales of House Wine Rainbow Rose Bubbles to the HRC. With a grassroots force of more than 3 million members and supporters nationwide, the HRC was found in 1980 and is America's largest civil rights organization working for lesbian, gay, bisexual, transgender and queer equity.
$6.49