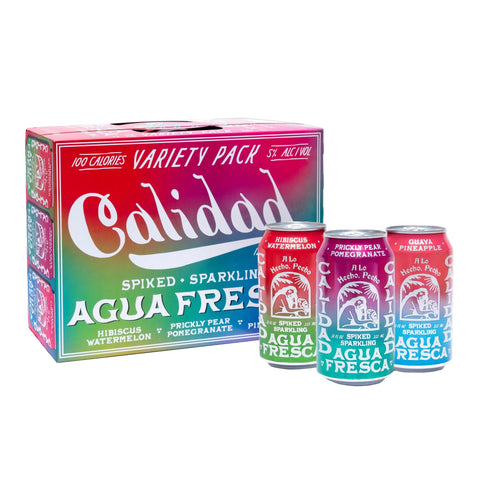 Agua Fresca Variety Pack (12 Pk)
Calidad Agua Fresca is a line of spiked, sparkling seltzers inspired by the traditional namesake beverage found across Mexico. Developed in collaboration with two expert flavorists from Mexico City, Calidad Agua Fresca is sold as a variety 12-pack, featuring three mouthwatering flavors, each highlighted by a one-two punch of crisp, all natural fruit combinations:
Hibiscus ~ Watermelon: fruity and tart hibiscus meets fresh and juicy watermelon. The epitome of summer…in a can!
Guava ~ Pineapple: vibrant tropical pineapple meets sweet and flowery guava. The duo you didn't know you needed!
Prickly Pear ~ Pomegranate: delicately sweet prickly pear meets bold and tangy pomegranate. A refreshing blend just waiting to be enjoyed.
5% ABV / 100 calories / Gluten-free / Made with real fruit & natural flavors
$22.39