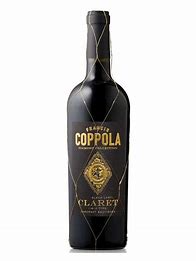 Coppola Claret Black Label - Diamond Collection - 750ml
Have it delivered with Pink Dot's legendary delivery service! However, for those interested about this delicious Claret : The crown jewel of the Diamond Collection showcases flavors of clove, pepper, caramel, creme and cocoa.
Diamond Collection wines are made from grapes grown across California and are carefully combined to create wines perfect for all occasions – including those special just because ones.
Since its inception, Claret has been the crown jewel of the Diamond Collection. Crafted as a Bordeaux-style blend, this popular wine reflects a diversity of vineyards whose soils contribute to its complexity.
$26.99