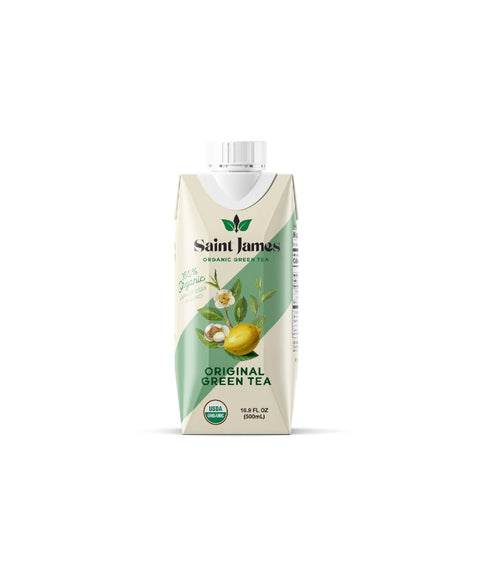 Green Tea Saint James Tea
Saint James Tea is a flavor-packed organic beverage option dedicated to minimal environmental impact. Equal parts refreshing and uplifting.
By using Tetra Paks created with low carbon materials and made of 70% paper from responsibly-managed forests, Saint James puts the planet first. Our packaging also eliminates exposure to air and light, which gives our preservative-free tea a shelf life of up to 24 months while still keeping it as fresh as possible. Each flavor is 100% natural and contains only 4 grams of sugar and 25 calories, with a taste profile that expertly avoids both only-a-hint and way-too-much.
Founded by the Ferolito family, Saint James Tea is a second-generation, family-owned and sustainably-packaged beverage brand. Named in honor of Father James Haggerty—an inspirational figure in founder John Ferolito's early career—Saint James Tea encourages you to uplift, inspire, and leave each place better than you found it. Through our #WhoIsYourSaintJames initiative, we ask you to celebrate and spread the word on those who are making a positive impact on their communities.

All Saint James Teas are:
Organic
Kosher
Low Calorie
Low Suga
Nutritious
No Preservatives
Clean Ingredients
Gluten Free
Vegan

$2.99